Arrived in Portugal.  Tuesday  14th of August. 2018
I am just keeping the page title as Portugal. as its where we will be for a while. We  Came through Spain Fairly quickly,  To be Honest I am not a great lover of the place. Although its getting better every year. Could be the fact that we find better and better places as we go. Its a personal opinion, I'm sure many love it, and can't get enough. 
We do find the Campsites have ridiculous Prices, and noisy on the whole. We have found some very nice spots. We Generally put them on our map.but some Wilding Spots. we are keeping to ourselves, as they seem to find there way onto other search sites. and the next time we go they are full up or shutdown. 
So our first stop into Portugal. Pingo Doce Supermarket.  (love em !!)  unusual for me, as I hate shopping, but you cant beat the quality or prices like these .Load up with Quality wine at 4.50 euros a box. One of there roast chickens 3.50 with a free bottle of Coke. Quality food and veg at superbly cheap prices. That done we are off to a free camping spot.And here it is below.

Good place this. Alongside Football stadium. Parking on dirt/grass, Very large car-parking area. Packed when we got here, but all thinned out come 8.30pm. Very Quiet night. Water on site via drinking tap. no services other than that. The bay and beach has toilets and are superb 100 meters away, through the trees. We sat out drinking the cheap booze and eating roast Chicken. I love this Country. Careful if you go off the beaten tracks,,The Spanish improvised  loo is big and wide..Spent a very quiet night and moved on after breakfast the next morning

15/08/18 Wednesday  In the Hills           https://goo.gl/maps/LW4wnbqRueu
Spent a good part of the day crawling up the coast looking at different places to stay. As its August its packed. Endless traffic. No Fun at all. Owing to my attendance required at my Sons wedding, and quite rightly so. We are late traveling back to Portugal. Normally we would not Travel at this time of year, too hot and much too crowded.  so we did most of the day looking for nice spots.
Some we earmarked for our return if we come this way again in none holiday months. The trouble being for us is when we want to visit this area, or more likely can? its winter. Whilst winter in the Algarve is great. up here in the north its snow and Ice, not always of course, but colder and enough to put us off going.



So by 3 pm We and Trusty had had enough. So head for the hills to a site on park4night, 32 miles away. inland. Well we got here easy enough. Rugged climb to it tight turns but negotiable for most campers. Rolled onto site, dirt on grass, Plenty of rubbish around and a load of French new age Travelers.
Before I go any further, I would like to point out the travelers were picking up rubbish, not chucking it. Spent a pleasant night. They played their music until around 11 pm then crashed out. smoked out, me thinks, and not with the camp fire either..silence all night Could be a nice place. Without the Portuguese using it as a rubbish dump
16/08/18 Tonight's stop. Porto de Abrigo do Bico                                               
Same thing again. Drove down out of the hills. Tried a couple of spots Including a campsite. All full, picked Roads Packed. Picked a spot off the map and here we are. Looking good so far, small harbor with hard parking, a cafe and toilets. Very nice spot well see??.

Great. Only A few campers parked around.  Various nationalities. The  Portuguese are not in abundance yet. Love em. but noisy just like the Spanish. but 10 times more friendly.Its kind of amazing really, 20 miles further up the coast and right up to the Spanish border, its packed. Hardly anyone here. Cracking little bay.
We will stick around tonight, on our way Gradually to Sintra., We were going to Monsanto. Houses made of Bolders. I made a nav error when we entered Portugal, we should have gone there before Porto. but calculating the miles it would involve going back.The round trip would be around 300 miles. too much for us at this stage, especially as we can do it on our way back. Spent the night, dead quiet and very pretty, its exposed so if its bad weather, its a no go. but 35 degrees of Sun and good, cooler at night with ocean views and breezy.

Todays stop. 17/08/18. Pedrogao.
 https://goo.gl/maps/bN3x8XYUEkt
Another Lovely place. Or at least the beach area is. Parking is not so good. Plenty of room but, its a main car park behind dunes to the beach. Very busy road. Cafe across the road. is just setting up for the night with live music so were off.
18/08/18  We jumped ship last night, The saxophone player drove us off. also we did not feel at ease with the parking situation. Moved 3. miles further on. Found a better place.
Pinhal do Pedrogao.   
 As the Aire was packed. like Sardines.. We moved across the water. I included a picture from across the road or water, were we were parked. I cant understand this obsession with parking two inches away from each other. You can see the Aire across from us in the pictures.
We spent a very, Pleasant quiet night. Well worth the extra 1.5 miles. The Town attached is some way away and Fairly large. we drove through it on our way out. Its got most supermarkets. fuel etc.
Still today 18/08/18 Saturday.
We started off from last nights stop. and decided to put in shortest route to our next intended destination, I know !! I was Banging on about not doing that, but Portugal's really flat along the silver coast. So we tried it again. The secret with shortest distance on Tom-Tom, is ignore any narrow small road or steep climb,it tries to put you on. eventually it will come out good. It worked for us today, However remember ! Trusty is only a small camper, now with no Trailer, to A class ..and I doubt they could go where we do.
We spent most of the morning Driving from spot to spot 10 miles or so between each. No Joy.. Packed. If we ever do this again this route, it will be off season. After numerous stops and starts. and around 80 miles of driving. We  found this place.   
We are perched on top of a cliff, at the top end of the car park, if that's what you could call it. More like the lower slopes of the Himalayas and just as rough. But worth the effort to bump over it. Sat looking out at the Atlantic Ocean, in all its glory, with the waves pounding the rocks a 100 feet below us. Whats not to like. We had a good night, soothing waves and car park deserted at last. Not a place to be in the winter months though. You would get blown away.
From here we decided to venture inland a bit. We tried a few more places down the coast  first, but absolutely packed out. so off inland and back a little.
Mafra Palace.     
I have to be honest we were looking for a decent Aire. and Mafra town Aire seemed the business. Well like all things it was and wasn't. First the Aire was Brilliantly set out, All services, and free electricity.  The black waste was blocked and running down the far side of the Aire. but this was not the problem for us. we have seen it before and the local council normally sort it quickly. The problem was it was 38 degrees in full sun and no shade. So we decided not to stay but elected to take a look at the palace before we went.
Well as most people reading this blog by now have figured out I'm a right tight arse when it comes to paying out, especially for monuments etc. So we rolled up to the front door. and what a front door, Gonna be expensive Tee,   Says me. Get yer hand in yer pocket she says, I want to see this. 
How much  Please I asked the very nice attendant lady. Its 6 euros each for the full access. hmmm !! not bad do-able that. Me being me, next question. How much for Seniors ? Half Price Sir..Well Teresa just aged 15 Years again,  and we were in.
It was worth it. Stunning really, how the other half live. Or used to
                                           Mafra Palace.    
Mafra Palace.
We Really enjoyed  Mafra. Pity it was too hot too stay at the Aire. Nice bars around the palace.and quiet considering the tourist pull.
Beer was 1.50 a bottle. but you expect this when sitting in the main square with the views. There is a lovely park garden along side the palace, and its quite large. got a friendly park attendant at the gates. locked at night. That was the day done. off to find another Aire for the night, one a bit cooler with shade.
Off on the merry go round of places to stop, bearing in mind we are Zig-Zagging now, rather than a straight course. As we were headed for Sintra anyway. We Decided to cut and run and make Sintra footy ground our nights stop. to visit Sintra sites in the morning.
Sintra and Sintra footy ground.

I don't know what we expected of Sintra. but it sure did not live up to any expectations we might of had.Mainly because of the struggle to get to them. Massive long queues and heavy entrance fees, among the put offs for us. I have included googles views of it..it looks stupendous, but only going in off season.. its just impossible almost..in July and August
I will start with the footy ground Aire. Well we knew from the blogs of other Travelers that it was rough and ready. Dogs barking all night. noisy football practice etc.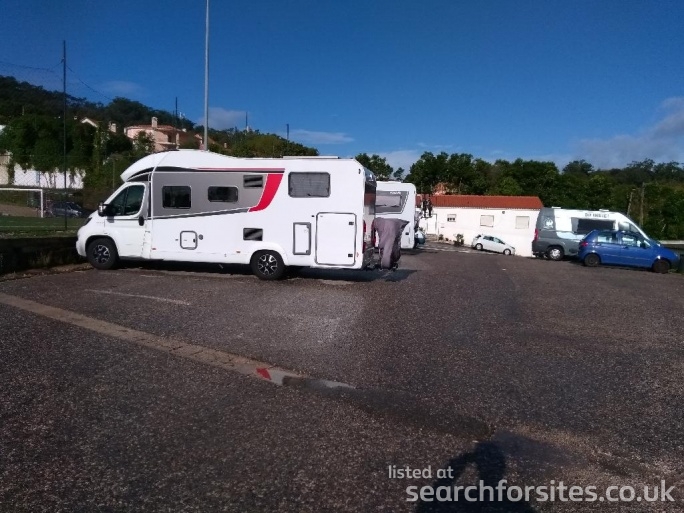 We found it as said. Rough but good. No dogs barking all night footy all stopped by 9 pm. We parked on the rough ground at the bottom. as there is only around 6 places to park on the tarmac. if no cars are there in them, The people are so friendly, and the bar is dirt cheap. so worth a visit, for that alone, and about one of the only place you can stay in Sintra, with services  7 euros a night all in. Good night spent, especially in the Bar.

 I have put the Google link at the start as usual. We were to put it mildly. Disappointed with it all., except the Bar  Sintra is every bit as bad to get around as they say. even with the bike, and impossible with a camper. Streets crammed with parked vehicles. very narrow mostly one way. takes hours to negotiate them even with the motor bike.Main sites are on top of massive steep hills, with narrow twisty packed out roads leading to them, and to top it all. The worst sign posting to them there could be. However, if you are a walker, I would expect that you would get a great deal from this place.
When or if you manage to get to the sites.You may be delighted with  queues of mini buses, and even more queues of Tourists,  Rip off entrance prices !!. After one of the most Frustrating days we have managed so far. this took the Biscuit !!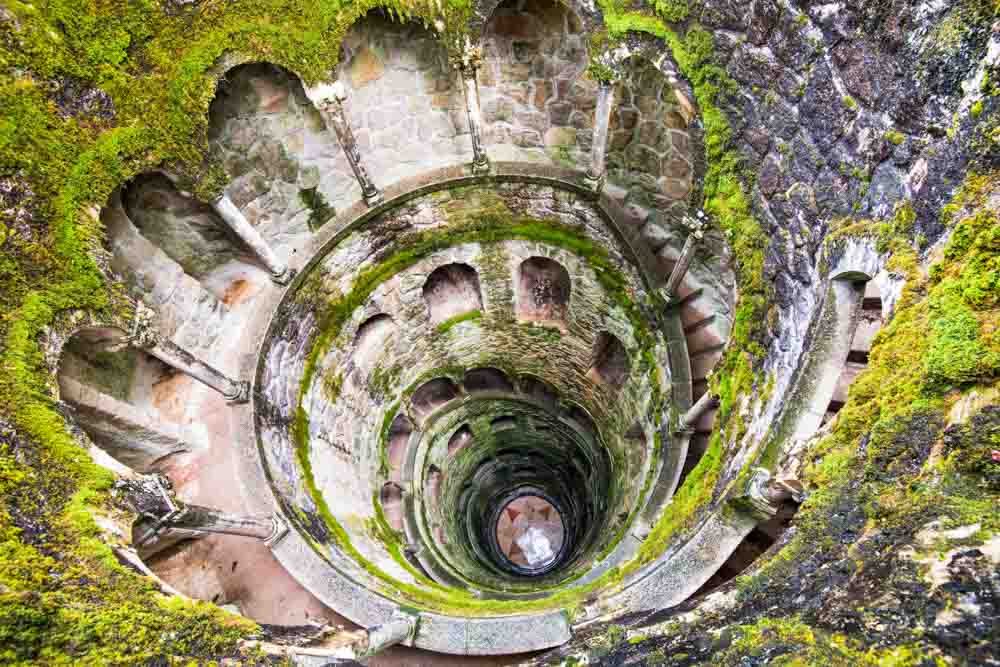 If you want to do this place, do it off season. it would be the only way we think. So we were back in the footy ground mid afternoon Figuring which way to go making our way to Paderne. A quick look at the map. and Evora was within reach. but better than that, Camping Alentejo was just beyond.
We have explored Evora before, and its very interesting. Some great sites to see, and lots of good eating or drinking. you can put park your camper on the large central car park with relative safety. lots of people about as well as cops. so off we went with the intention of re visiting The Orbitur camp site to see if its improved.

We have been to Evora and took a look round on a previous trip..
 The Chapel Of Bones Evora
We attempted to stay on the Campsite there. 

When we looked at it 3 years ago it was grubby and expensive. so we did not stop, and jumped to Camping Alentejo. So this time as we were only passing through, we thought well check it out and see if its improved.
No!! its worse and toilet blocks are just as smelly. For a major chain of campsites its not good. Toilets smelt of Pee. and no toilet seats no paper. just the same 3 years ago. looks good on the google blog…Campsite on the whole is OK, but tired and parts very unkempt.

Thought Id pretend we were stopping in this dump, off to Reception. How much for two persons and one camping car Says me. 40 euros receptionist says..Gasp No thanks I only wanted to stay one night, not buy shares in the place, Alentejo here we come. Now I know this sounds like one big winge at the mo, but telling it how we see it. and again I'm sure many others will see it different. Anyway on to the silver lining.
This a Gem of a site. small but great. Dutch owner. Brilliantly set out beautifully showers and graveled pitches. Small swimming pool and all services, except the washer/dryers are  free. Pitched up and stayed two nights to chill. Price in summer 13 Euros a night without hookup, which is 3.50 if you need it. and after Sept 1st its 9 euros a night. On the N18 and definitely on the run into Portugal  to or from Cáceres , Badajoz ,etc.
Had  a great two nights here again.
Next stop. Monseraz. 
This is worth seeing. We find that most castles in Portugal, while stunning from the outside have entrance fees and precocious little in them. this one is much different. No entrance fees. stunning Panoramic views of the lakes. and a small village within the castle walls. With gift shops and restaurants. the center courtyard has a small but absolutely stunning Church. all the inside is done with gold.
Its a Templar church judging by the very faded  Fleur-de-lis on the plaster here and there. but as no photos allowed and the guard not speaking English. cant get more info. but its on Google at your finger tips. Anyway managed to sneak a picture of the main Alter when the guard was busy eyeing up some pretty young ladies. more pics to come of this when I can get them of the other phone
Luz. the sunken village.  The Village of light
We headed for here, as we heard the place was like a ghost town. Not unoccupied buildings, but so quiet you just did not see hardly anyone. Well that indeed was correct. the Aire was quite good. but again in full sun all day. so we drove down to the lake/reservoir and no shade there either. 
The road goes into the water one side, and out the other. Somewhere in the middle under the water is the old village. The new one is on the raised ground on the hill.. Again its a place to totally chill in the off season when its cooler. Aire services were good and free.with drinking water. Nothing for it, move on..spent afternoon exploring but just too hot..
22/08/18…
So 90 miles and we are now back at the base in Paderne. for a while..and surrounding areas, then we shall be getting organized to trip back a different way. Ending up In the Jolly old UK. With a view what to do next.
Picture is Alte main road with all the bars etc
We frequent this place a lot, as its only 5k from where we are based. Campers tolerated around the cemetery..
We are thinking of replacing Trusty with Trustrusty 2. Just thinking at the moment. Its going to break our Hearts to Let Trusty go, She's not called Trusty for no reason. Never ever let us down. goes where a lot cant or wont.. Been our home for over 4 years. and our best Friend. So a lot to be thought about
Again We hope you have enjoyed following us on our travels.Thank you to all out there, take care and Teresa and I wish you all the best.
Back to home page and blogs and maps and further Adventures.