Tips for the budget campers among us..
and updates at bottom of blog
Its very hard to sort out what to take and what not to on long trips such as we embark on. Trusty is only a small camper van,although I have tried to make her as compact and luggage friendly as possible you just can't take it all.
Over the 5 years we have been doing this we have bought stuff, binned stuff, Lost Stuff, and found stuff. But it doesn't matter what you do you never get it right.
The Rule we find works the best, is travel with the minimum you can. ie: don't take a full dinner service, when there is only two of you. Make the plates Plastic, but use good quality ones. But be careful not to use them in a microwave if you have one. Most of them, dont like it one bit
Useful things
4 sets of knives and forks. in case you have guests.or loose one.Cutlery. is heavy so keep it skimpy and light  Pots and Saucepans are also very heavy We opted to take 1 medium pan, 1 small one and the Wock. A set of light weight stainless steel steaming and boiling pots.The type that fit together for storage.  Plus a pressure cooker.
This latter item comes in handy more than most of the others..  
The pressure cooker, is Magic. Cooks all sorts of meals in minutes, and saves tons of gas. and of course doubles up for the very big pot you may need.
Tin opener. Bottle opener, Corkscrew..Teresa's Favourite weapon !!! 
A good gas kettle. its a must. . We took a rolling pin on our first outing. A blooming rolling pin ?? What for ?? I can run faster than Teresa can…
Pack super lite.. 
We also had a Oven/microwave with us. chucked it way too heavy.and as we don't use sites much anymore. Never used it. but still kept the plastic plates, we recently added two enamel plates, ideal for under the grill, to brown your cheese off.
Trusty is Solar powered mostly so we don't need hook ups. and its a good way to go. Hook ups, or EHU as they call it can eat into your dosh big time if you use campsites. at first we used hookups,and campsite. every 3 days or so. but soon realised that they were unnecessary. At an average of 3 euros a night.for electricity, and 10 to 20 euros for the site,,off season..and up to 40 euros a night in..its a huge saving ..also when wilding, as we do a lot. virtually all the time-in fact.. We have  power all the time.
Bear in mind that most campers are near their legal weight limit before you put anything in them, you have to make everything in them light and essential. Doing this will also help your gas mileage a lot. weve heard the horror stories of big fines, etc, but to be fair, in nearly 6 years now and over 40 thousand miles of continental driving, we have never been stopped. by anyone.
So pack it all. go weigh your camper. take it back and chuck half of it.
Also you need a full tank of water diesel, etc and you two sitting in it when its weighed.
A good set of lightweight  waterproofs. are advisable for the very wet times. make them a good  over fit. Good waterproof  walking boots or shoes.
Flip flops or old sandles for campsite showers if you use them. as the foot diseases can be nasty from these. It does not matter how clean they look, Bacteria are in abundance.
Bungee straps, make them good quality, not from the Chinese versions. they are rubbish, once in the sun they degrade in weeks. Bungie's are so useful. We use them for all sorts of applications .
One is stringing two across the windscreen inside,  to make a none unsightly washing line. Works a treat. sun drys them very quickly…We used Halfords. Admittedly they are twice the price, but last 500 times longer Link below
https://www.halfords.com/motoring/roof-bars-roof-boxes/roof-box-accessories/halfords-essentials-bungee-elastic-60cm-x2
  We also carry a conventional washing line and pegs.
Which brings me to the washing.
We use two twenty five Litre plastic boxes to do the washing in. This method is used by quite a few Motor homers. Just fill one half full, add your washing, and only a little soap liquid. and drive when you get to your destination give them a quick rub though and rinse in the other tub. or put clean water in the tub . Add the clothes and drive.
Next stop ring out and dry. Works a treat for us. Costs virtually nothing, and is not hard work either. When finished you can wash the van with the leftover water. A chore I hate.
Occasionally we use the launderette, Intermarche  Supermarkets mostly have them attached or in the car-park. around 5 euros for large wash and dry..so if you can't use the box method, or just cant be bothered, they are a good substitute, and also normally on the bigger ones,overnight parking with waste disposal and water, plus black waste..ia available Bonus!!
Because Trusty is a self build, When I first built her. I built a shower and toilet area in the rear behind a full blanking Partition. (see Trustys Build).
This proved to be impractical for the shower as the antiquated caravan heater we used was too intruding. and the space we had left was not big enough to shower and turn round. never mind washing etc.
I decided to do away with the whole thing., the caravan heater burst anyway a week after I was pondering what to do with it.. So I've Added a German portable LPG shower unit. which can be used inside or out of the rear compartment. (built a vent for it to be used inside)
Also we have  a pop up shower tent which does just That. and folds down after. Very handy for storage and  out of the way places..Most larger motorhomes and van conversions will have a built in one.. We had to take an Einstein's night course to do the folding down bit. but we got it sorted eventually. Works a treat, if we are wild camping and no one else is around.  Trusty is not large enough with the full sized bed fitted. so we opted after ripping out the old shower to use this system..
I also installed a shower curtain on rails that fits between the back doors if we dont need the pop up.  we just open the van doors pop the shower rails in place and pull a shower curtain across between them. and Sorted !! Clean.
I made a foot board which goes inside the pop up. so no standing on the ground. and stows in the rear compartment.
In case you're wondering how we access the toilet with the bike attached. I have made a quick detachable system. I can get the bike off in less than two minutes, and the same back on.
The blue cupboard to left of picture holds the Gas low system.
This was a great addition. Normally around 5/600 quid to buy complete with all the extras I have. but got this off eBay for a song. Its saved us a lot of money. Bought a set of multi Adapters off eBay £13 ..and  set to fill anywhere in the world straight from the garage pumps.
We have an outside fitting for gas BBQ. And the shower fitting.
this is the link to their site, but you can get them from eBay as well
Also we use a small camp stove outside when its very hot or doing Chips etc..Yes !! Chips !! I love em. Stops the airborne grease and fat getting onto the van. also Tee loves fish. It definitely does not go with the interior fittings of the van .Fish is like TCP. ,everyone can smell it for Days.
Tools
As an ex mechanic among many other things, when we first started, I had tools coming out of my ears in case of emergencies. Well that was a mistake. the weight when I off loaded them back in the UK after our first trip, was a staggering 78 kilos.
So now I've skimped them down To 15 kilos including the Jack. When I fitted the 125 motorcycle and rack to Trusty this year. That 78 kilos was half the weight of the bike and rack together. Which brings me to more weight loss..
The Spare wheel . I ditched it. Ahhh why.?? Well It's a big weight to have on the rear (25 kilo) and  no where to put it anymore with the bike attached.
The fail safes for punctures and the like. 
Three canisters of Tyre repair/inflation cans (Large)  A 12v  Air Tyre inflater. and  Breakdown cover for 360 days in Europe. and of course the 125 motorcycle. So should have it covered. We will see.
I fitted Trusty with 4 brand new Firestone vanhawke Tyres. 8 ply rated and probably the best Tyre's you can fit on a van. These will return an average mileage of 40/50 thousand miles. Had them on previous vans, and never had a puncture.
I also fitted Trusty with Solar panel and regulator. £125 off ebay. But they are a bit more now.
150 watts output. was going to fit two. but we found the one is more than enough, with the two Volvo Truck batteries they are coupled two. Separated from the Engine battery with a switch over.
In 5 years we never had a flat battery,  It's a good move and if your building a van, include them.
Water
We have a 70 litre Fiamma tank fitted With a whale diafram  water pump inline. This does all our water needs. But there is a secret here as well.
Dont travel with water tanks full, unless you think you are going wilding for a good few days. We find a quarter full and a spare 6 litre bottle is fine.
Water is available most everywhere on the continent, most garages and service dump stops have drinkable water free, and many sites will give poi's for them, so dont carry all that extra weight. It kills the fuel.
Also make sure your waste tank is empty when you travel. Ours is 90 litres, so you can see. Very heavy as well.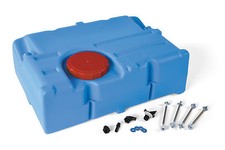 Mostly its all common sense. with a little ingenuity. and Creativity.
We use plastic containers of all sorts to hold things, stops it all rattling around the van, and makes it easier to find stuff. also only use square or oblong ones. as they fit well together.. There are very few round cupboards..
Wi fi
We use a 3 plan  for most of Europe. It gives you 19 gb to use tethered, but in Portugal we use our huawei  dongle with Vodafone pt..it gives 30 gb for 15 days for 15 euros. we buy 2 a month and we use a lot. Building the web site, and streaming films. box sets etc.
We try not to download films as they are large. This way it always lasts the month out. Best bargain in Europe so far.
Spain and France are a joke. and after Brexit. we figure that 3 will be the way to go.
Handy tips before you start your journey . Im sure most people will either know or do these, but its worth a mention
After Mot Tips
Its commonsense to put a full one on even if you have 6 months left. But even if you have a full mot just done, its a good idea to check the Exhaust. it may have passed the mot. but does it look good enough to last 12 months while your away..
Takes 5 mins to give it a good look over. and can save you a lot of aggro on the trip. We split a pipe in France. luckily I was able to patch it. before fitting a complete new one on our return to the UK
Tyres,
again as long as there is more than 2 mm on the tread they will pass the mot, but they are going to be illegal pretty smartly on the Trip.  We find Tires in the UK are cheaper, and of course easily obtained..
It's a known fact that motorhomes are nearly or over their weight limit when travelling. again OK tire wise on cool road surfaces, but the roads abroad in summer. Well, you could fry an egg on them. Less pressure. (under inflation) will cause the Tire to overheat. and could blowout. Especially with the added temperature.
We had this happen in France once on a very hot day.. Nasty especially changing it  on the slip road of a very busy Motorway. With 44 ton  Artic's trying to miss you by centimetres, or blow Trusty off the jack 
But also to be truthful, we had a ropy old Tire on the rear on our first trip which although had good tread it was old. My fault for skimping. Now we  have new  Firestone's all round. at an extra pressure of  1 bar+ )
Inflation is paramount to none blowouts. A Tire is better with slightly more than the recommended pressure in it, carrying weight, than less. Some  people may dispute this, but its worked for us over thousands of miles. We now run trusty one bar Higher than recommended. never had a problem since, in over twenty thousand miles. In all Terrain and temperatures .
Beam deflectors. They sell them at Halfords. Ebay, every where. What a rip off  price wise for a couple of bits of sticky cardboard. Make your own. go on to google images for the templates and where to fit them on what model. We make ours out of gaffa tape..Cost Zero
Spares we Carry
We carry the obligatory bulb set. get a good quality one with  lots of bulbs.  A spare fan belt, Clutch cable. throttle cable. power steering belt. none of these weigh much, but boy can they get you out of the Brown stuff if yer in the middle of nowhere, I also carry a spare water pump and wheel bearing.  5 litres of oil and a spare fuel and Oil filter. and a 5 litre can of Diesel.  Essentials I feel we need or hopefully dont.  Used the diesel once..and up to now, none of the others..but still carry them..You never breakdown outside a motor factors..
Fuel saving Tips
Apart from the weight ones, We use the roll method on long hills and descents, combined with engine braking. works well. on good trips we can get Trusty up to 36 mpg. using this Method. engine braking saves on the Manual brakes as well.
It can only be done with a manual gearbox of course. Automatics dont lend themselves to it.   Also when you get to a long road down and a steep up. put your foot down rush down, and its much less fuel to get up it, and quicker of course. Again small potatoes to most drivers but we save fuel doing it. and over 40 thousand miles to date. its a good saving.
Fuel Stations.
These vary from country to country of course. French Fuel like most has rocketed to stupid prices. So the big super markets are your best bet, unmanned  ones are card only. and cheaper..but they have a few irritating faults..
Half the time they will not accept british debit cards..or if they do, load them with a couple of hundred quid, which is returned to you at a later date.. Not on!!! We use a Caxton prepaid card, which works well, and if they load it..a call to Caxton, immediately will return the extra to your account.
Spain has a quirky way of selling fuel. some garages are so expensive, while 50 meters away one is 15 cents a litre less. Main chain supermarkets, are normally the best..but not always.
Maxim here is to keep your eyes peeled on prices. and again the main Supermarkets maybe cheaper. but dont get fuel on motorways or Dual carriageways as they are extortion. and as France?? Here also a Caxton card is more useful..Than a debit..
Portugal. We find That Jumbo Chain the cheapest. next Come Intermarche. but there is normally only a cent or two difference between them. Then its a case of if the petrol station if its near one of these Outlets it will be cheaper than one thats in a village or miles from nowhere.
Added 26/01/2020
Now the Brexit stuff...
Groan I hear a sigh???..Not political this..but practical.
First Documents..as with all EU states, at the moment, you are required to carry with you in the car/camper etc..your driving licence, Passport, MOT, insurance. and normally a green card.. We do all of this, except We dont carry our passports ….
(we don't have a green card..not needed yet for Europe..only for Morocco etc.)
……in the bundle in the glove compartment, as its a recipe for disaster.
iI you have them stolen etc.almost impossible to sort without a letter from the British Embassy. Most of the rest of it you can get online as a copy. But not so with passports.
Plus after Brexit 3 different, IDP's (driving permits)  available from post offices, UK wide..You can't do it online so you have to go to the post office. A bit of a no no,  if your still abroad without one when it goes down..As we will be..
It's worth noting That for us …France is the only one that requires an IDP after Brexit..But they dont need one for Britain..whats that all about !!
https://www.gov.uk/guidance/driving-in-the-eu-after-brexit-international-driving-permits
If you get stopped..in the coming months, which is rare  and very unlikely, if your not breaking any traffic laws..You Driving license is perfectly acceptable for ID and passport it not needed, and if britain leaves with a deal..Driving permits are not really required. after all they just need to see if your entitled to drive and who you are..ID Driving permits are not a licence or permission to drive..They only confirm that your license is valid..which of course if its in date it is..
Here in Portugal. when  a friend of ours was stopped on a routine traffic stop on a roundabout..He handed everything except his passport  out of the window..Officer looked at the  license, quick glance at him and photo on it..handed it all back without reading any of  it,,and said enjoy your stay in Portugal..Love Portugal